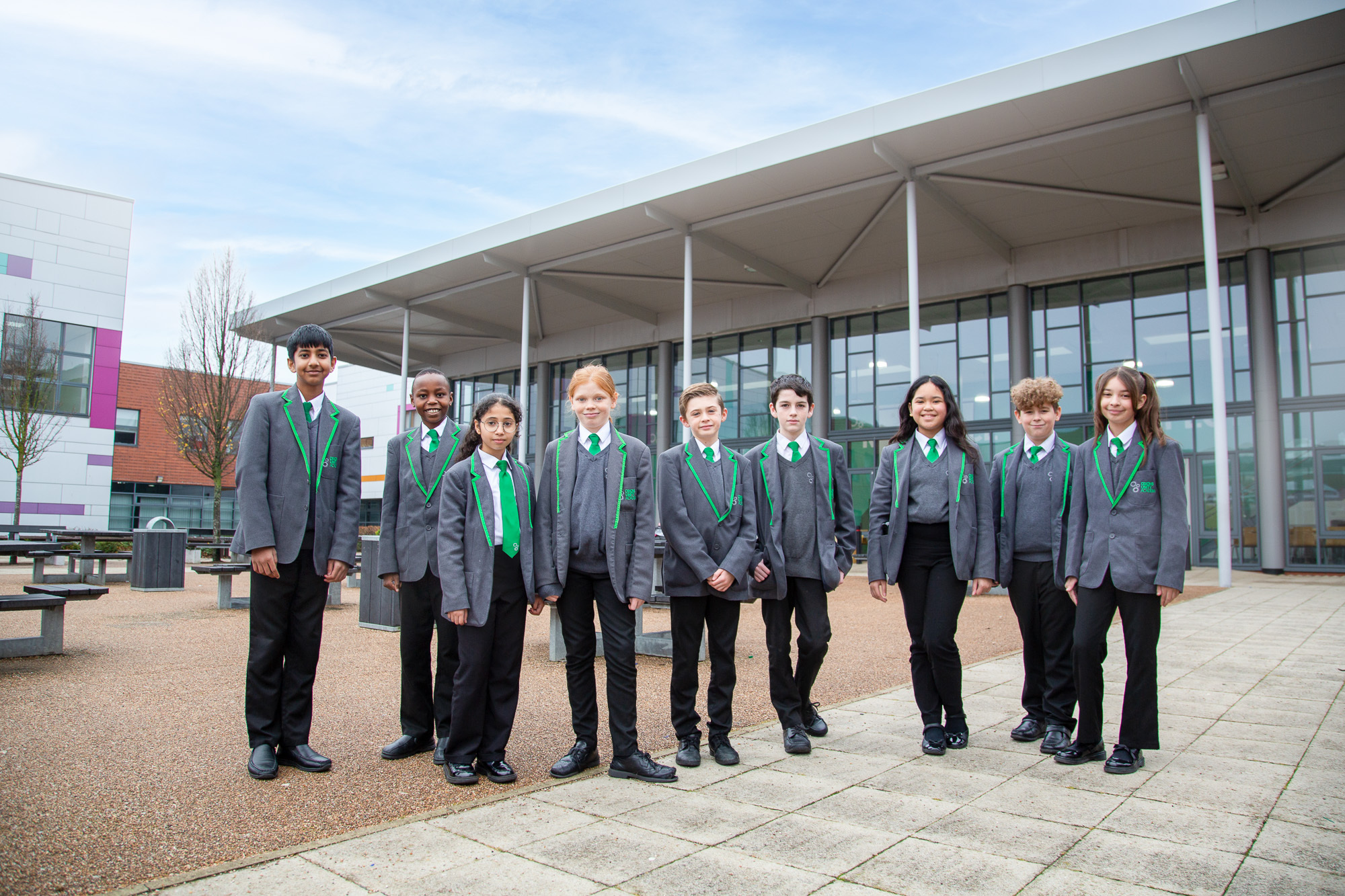 Uniform
Dixons Unity Academy is very proud of its strict dress code, which fosters a spirit of unity and enables or students to be smart and prepared for the world of work. At the bottom of this page, you can download a useful visual guide to our uniform expectations.
Uniform
Dixons Unity students must wear plain black trousers. No jean, leggings, skinny fit trousers, tight fitting trousers, tracksuit bottoms, shorts or skirts. Jeans are defined as trousers with patch pockets and rivets. Trousers should not trail on the floor.
Plain white collared shirt or blouse.
Academy navy blue jumper (Year 10 and 11) or Academy grey jumper (Year 7,8,9). (Students can wear their jumper or blazer or both.)
Academy blazer with green piping (navy blue Year 10 and 11) or (grey Year 7,8,9). (Students can wear their jumper or blazer or both.)
Green Academy tie.
Plain black socks
Plain black shoes with no motifs (trainers, boots and pumps are not suitable). Students wearing the wrong footwear will be asked to change into academy footwear.
Students can opt to wear plain black salwar kameez or tunic with a white blouse/shirt, green academy tie with the academy blazer over the top. 
Hijabs, scarves, turbans, crowns and top knots, worn for religious reasons, must be plain black and well secured.
No jewellery, other than a wristwatch. No earrings or bracelets are to be worn. Piercings of nose or tongue are not permitted.
No make-up for students in Years 7 and 8 and only 'moderate' make-up for students in Years 9,10 and 11.
Students in ALL year groups are not permitted to wear false nails, nail varnish or false eyelashes. No unnatural hair colouring is permitted.
PE Kit
Academy navy polo shirt.
Academy navy quarter zip up long sleeve top (Optional).
Academy navy shorts
Academy navy tracksuit bottoms (optional)
Trainers (indoor and outdoor)
Academy navy socks
School uniform can be purchased direct from Uniwears